Mike, Jake, and the Big Black Bear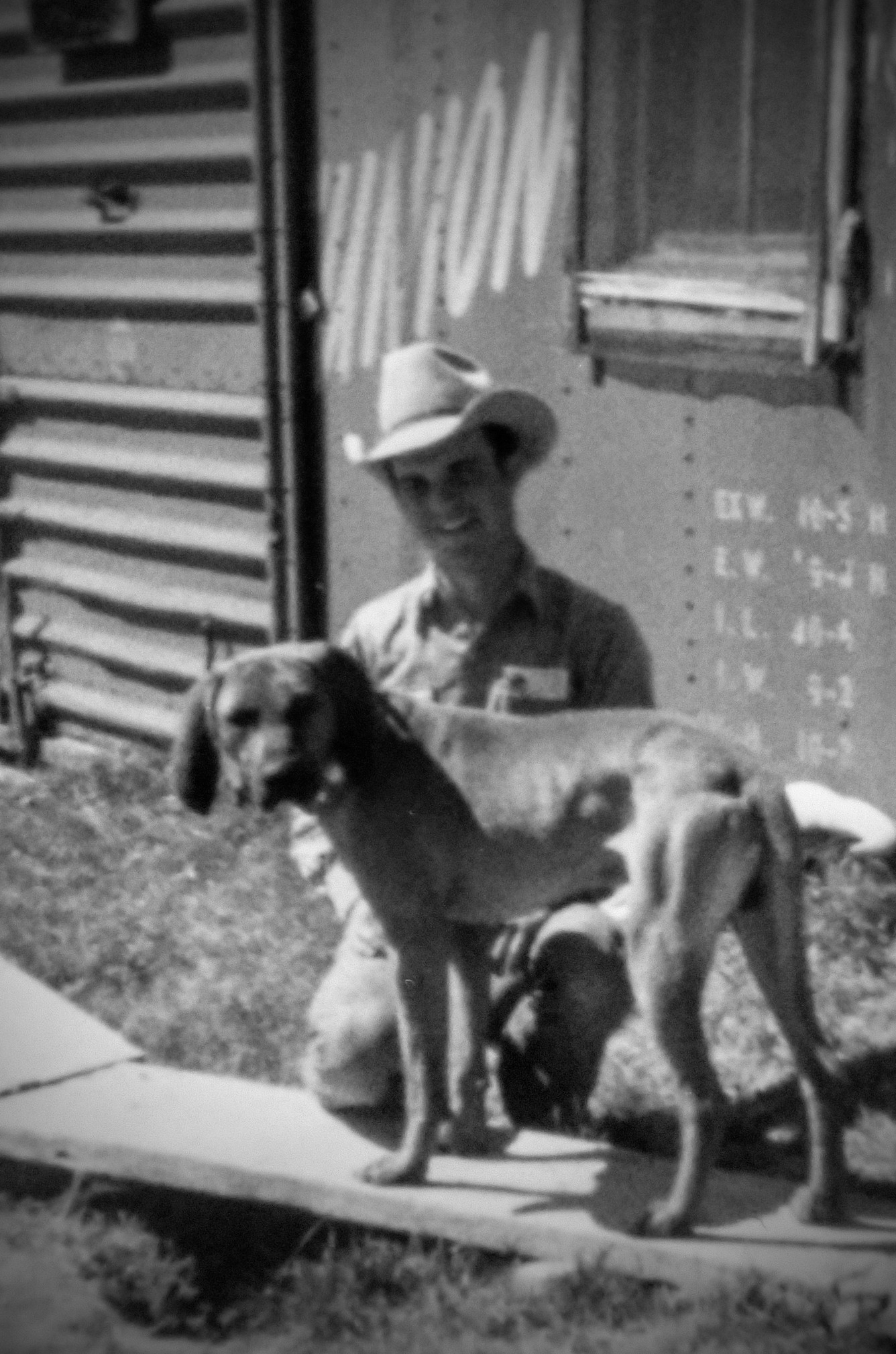 Jake was incredibly strong; not only in will and commitment but in physical strength as well. There were so many occasions when we were reminded of this fact. The first that comes to mind was one beautiful summer day when my younger brother Mike and I were fixing fence high in the mountains. Naturally, we had the hounds along; Jake, a stout redbone hound, and the big blue-tick pup named Rueben. We were done with our work in the early afternoon and were riding back toward the ranch when ol' Jake crossed a fresh bear scent. Immediately, the chase was on, and about fifteen minutes later, those hounds had a very big black bear treed up in a huge fir tree.
When Mike and I arrived on scene, we could see the bear on a large limb not ten feet above the hounds. Those dogs were raising cain and the bear was mad: popping his jaws and growling at the source of his irritation below. What a site that was! Well, Mike and I took it all in while discussing our next move. We had no gun - it wouldn't have mattered as it wasn't bear season. We just had to get a hold of those hounds somehow. I did have my leashes so I gave Mike a leash and told him we were just going to have to charge in there and leash up the hounds and drag them off. Mike was about thirteen years old at the time and tall and slender as a rail. He didn't have a lot of meat on his bones; however, what he may have lacked in muscle at the time, he certainly made up for in resolve. Even so, he had a look of bewilderment on his face as he processed what I had said. "Charge in there with that big bear and leash up the hounds you say . . . . . . . . . Okay . . . . . . . . . . . . ". He seemed a bit incredulous at the mere suggestion of such a ridiculous plan. I assured him it was the only option I could think of. I suggested he go after big Jake as the blue-tick hound was about thirty percent bigger in body mass. It only made sense that I, the bigger, stronger brother, go after the biggest hound. Well, I sold Mike on the idea and we took off for the base of the tree.
I can assure you of one thing, we didn't take our eye of that mad bear as we fumbled around trying to get the hounds leashed nor did he take his eye off of us! Eventually, we got the hounds leashed and proceeded to drag them off. This is where the fun began. The farther we got from the tree, the harder Mike's job became. He had that leash over his shoulder and was digging and scratching in four wheel drive for all he was worth to stay up with me. Ol' Jake was giving him a tussle pulling on the other end of the leash and howling at the top of his lungs! We got about fifty feet from the tree and the ol' bear saw his chance and started down the tree. At that point, Jake's level of commitment doubled. He shifted into turbo mode and I saw a very bad look come onto my little brother's face as it occurred to him that he was definitely going to lose this game of tug of war. Back to the tree they went at a high rate of speed! Jake dragging Mike along on his belly like a little red wagon and up went the bear back to his perch; Jake howling like mad.
I couldn't help but laugh; what a sight it was! I didn't have anything to tie the big blue-tick to so I just shouted encouragement to Mike. With fresh resolve, little brother again put the leash over his shoulder and dug in and pulled for all he was worth. The ol' red hound was coming along very reluctantly and, you know, they almost made it all the way back to me when the bear started to climb down again. Back to the tree went little brother bouncing along on the end of that leash - ha, ha, aha ha! Oh this was getting comical now. The bear went back up and was madder than ever! I decided enough was enough and this time when the two were almost back to me, I scolded Jake enough that he relented and allowed the ol' bear to come down and take off. Poor Mike - his shirt was almost torn off with the ordeal but he seemed pretty proud that he had won in the end.